DEATH STRANDING™ Director's Cut – PS5
$49.00
Release Date:
Sep 24, 2021
From legendary game creator Hideo Kojima comes a genre-defying experience, now expanded and remastered for the PlayStation®5 console in this definitive Director's Cut.
In the future, a mysterious event known as the DEATH STRANDING has opened a doorway between the living and the dead, leading to grotesque creatures from the afterlife roaming the fallen world marred by a desolate society.
Developer:
Kojima Productions
Publisher:
PlayStation Studios / Sony Interactive Entertainment
Description
Experience DEATH STRANDING on PS5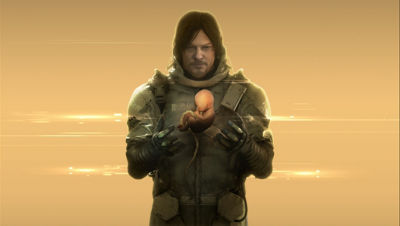 Tomorrow is in your hands
Remastered for the PlayStation®5 console – enjoy advanced combat and a new competitive ranking system.*
Expanded content – use additional weapons and vehicles, take on new enemies and explore new locations with extra missions and minigames.
New discoveries – experience an extended storyline in an expanded area.
Social Strand System – stay connected with players around the globe.*
PS5™ features:
Experience environment effects with the DualSense™ wireless controller's haptic feedback.
Get closer to the world of DEATH STRANDING with bespoke adaptive trigger resistance.
Hear sound effects come to life in 3D Audio (requires compatible headphones).
Get into the action quickly with the PS5 console's ultra-fast SSD and near-instant load times.
Choose from two picture modes – Performance Mode with upscaled 4K and up to 60FPS or Fidelity Mode in native 4K – both with ultra-wide and HDR support.**
*Internet and account for PlayStation™Network required.
**4K and HDR require a 4K & HDR compatible TV or display.
WARNING: IF YOU HAVE A HISTORY OF EPILEPSY OR SEIZURES, CONSULT A DOCTOR BEFORE USE. CERTAIN PATTERNS MAY TRIGGER SEIZURES WITH NO PRIOR HISTORY. BEFORE USING AND FOR MORE DETAILS SEE INSTRUCTIONS FOR THE PRODUCT OR CONTACT SIE CONSUMER SERVICES AT 1-800-345-7669.
1 player. 71GB minimum. Vibration fuction & trigger effect supported.
*Account for PlayStation™Network and Internet connection required for asynchronous play. Online features may be terminated at any time. PlayStation®5 Enhanced features vary from title  to  title.  Software  subject  to  license  and  limited  warranty  (playstation.com/softwarelicense).  Online  features  require  an  account  and  are  subject  to  PlayStation™Network  Terms  of  Service, and data collection is subject to SIE LLC Privacy Policy (playstation.com/legal). Licensed for play on PS5™ consoles in the United States. Manufactured and printed in the United States. "Ultra HD Blu-ray™" word mark and "Ultra HD Blu-ray™" logo are trademarks of Blu-ray Disc Association. "PlayStation Family Mark", "PlayStation Studios logo", "PlayStation", "PS5" and "PS5 logo" are registered trademarks or trademarks of Sony Interactive Entertainment Inc. The Sony Interactive Entertainment logo is a registered trademark of Sony Corporation.
©2021 Sony Interactive Entertainment Inc. DEATH STRANDING is a trademark of Sony Interactive Entertainment LLC. Created and developed by KOJIMA PRODUCTIONS. All rights reserved. All trademarks are the property of their respective owners. Appearance in this game does not imply sponsorship or endorsement.