God of War™ Ragnarok Launch Edition – PS4
$59.00
Release Date: Nov 9, 2022
From Santa Monica Studio comes the sequel to God of War (2018).
Set out on an epic and unflinching journey as Kratos and Atreus struggle with holding on and letting go.
Witness the changing dynamic of their relationship as they prepare for war; Atreus hungers for knowledge to help him grasp the prophecy of "Loki", as Kratos struggles to free himself from the past and be the father his son needs.
All the while, the eyes of Asgard watch their every move…
Developer: Santa Monica Studio
Publisher: PlayStation Studios / Sony Interactive Entertainment
Genre: Action / Adventure
FREE LAUNCH DAY DELIVERY AVAILABLE. See Pre-order FAQs linked at the bottom of the page.
Description
God of War Ragnarök Launch Edition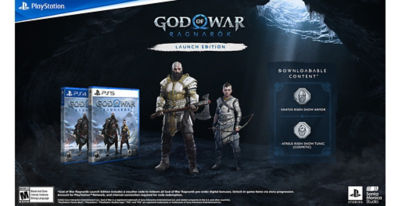 Package includes:
PS5™ game (physical)
Kratos Risen Snow armor*
Atreus Risen Snow tunic*
Game Features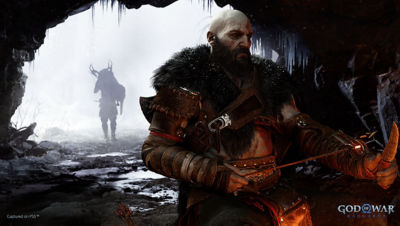 Fight to Defend the Nine Realms
Atreus seeks to further understand the clues left behind by his mother and piece together his prophesied role in the coming war.
Meanwhile, Kratos struggles with his son's desire to uncover more about his identity, knowing it will draw them towards the vengeful Aesir. If that happens, they'll be even closer to repeating bloody mistakes of the past.
As the world around them inches closer to the threat of ruin, the pair find themselves faced with a choice: between their own safety or the safety of the realms…
All the while, Asgardian forces prepare for war…