God of War™ Ragnarok Launch Edition – PS5
$69.00 – $259.00
Edition: Collector's Edition
Release Date: Nov 9, 2022
From Santa Monica Studio comes the sequel to God of War (2018).
Set out on an epic and unflinching journey as Kratos and Atreus struggle with holding on and letting go.
Witness the changing dynamic of their relationship as they prepare for war; Atreus hungers for knowledge to help him grasp the prophecy of "Loki", as Kratos struggles to free himself from the past and be the father his son needs.
All the while, the eyes of Asgard watch their every move…
Developer: Santa Monica Studio
Publisher: PlayStation Studios / Sony Interactive Entertainment
Genre: Action / Adventure
Limit 1 per customer.
LIMITED QUANTITIES AVAILABLE – unit not reserved until checkout is complete and you receive a confirmation email.
FREE LAUNCH DAY DELIVERY AVAILABLE. See Pre-order FAQs linked at the bottom of the page.
Description
God of War Ragnarök Collector's Edition
Package includes:
Full Game for PS4™ and PS5™ (printed voucher)*
16 in Mjölnir (replica) Hammer
Dwarven Dice Set
Two 2 in Vanir Twins Carvings
Steelbook Display Case (no game disc included)
Knowledge Keeper's Shrine
Digital Contents Voucher*:

Darkdale Armor**
Darkdale Attire (Cosmetic)**
Darkdale Axe Grip**
Darkdale Blades Handles**
Kratos Risen Snow Armor**
Atreus Risen Snow Tunic (Cosmetic)**
Dark Horse digital art book
Official digital soundtrack
PSN avatar set for PS4/PS5
PlayStation®4 theme
Game Features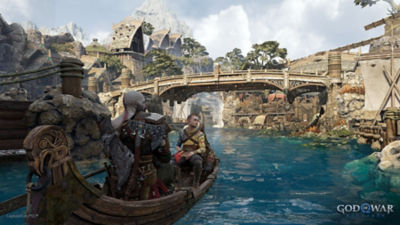 Fight to Defend the Nine Realms
Venture through all Nine Realms towards the prophesied battle that will end the world.
Feel your quest through the immersive haptic feedback and adaptive trigger functionality of the DualSense™ wireless controller.
Vanquish Norse gods and monsters alike in fluid, expressive combat.
Take in the gorgeous worlds you travel through, brought to life by stunning art direction and remarkable attention to detail.
Gain the upper hand in battle thanks to multidirectional 3D Audio; hear enemies approaching from any direction.¹
¹3D audio with stereo headphones (analog or USB)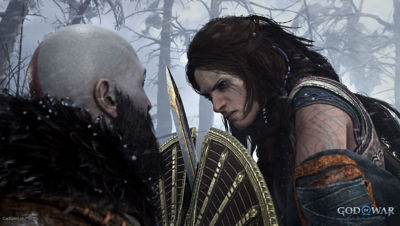 A couple of years have passed since Fimbulwinter began; the cold continues to bite, throughout the realm of Midgard. Kratos and Atreus do their best to stay hidden, having tried to undo the approaching end times. Every day they train for the inevitable, while seeking any possible means to change the course of fate.
See for yourself how their destinies will force a choice: between their own safety or the safety of
Additional information
| | |
| --- | --- |
| Edition: Collector's Edition | 259, 69, 199 |