UNCHARTED™: Legacy of Thieves Collection – PS5
$49.00
Release Date:
Jan 28, 2022
Play as Nathan Drake and Chloe Frazer in their own standalone adventures as they are forced to confront their pasts and forge their own legacies. The UNCHARTED™: Legacy of Thieves Collection includes the critically acclaimed single-player stories from both UNCHARTED™ 4: A Thief's End and UNCHARTED™: The Lost Legacy, remastered for the PS5™ console.
Publisher:
PlayStation Studios / Sony Interactive Entertainment
Description
UNCHARTED™: Legacy of Thieves Collection – PS5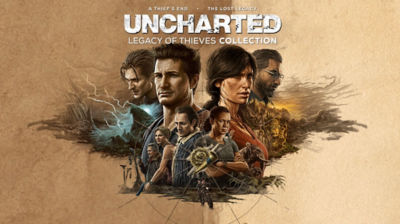 Seek your fortune and leave your mark on the map in the UNCHARTED™: Legacy of Thieves Collection. Uncover the thrilling cinematic storytelling and the largest blockbuster action set pieces in the UNCHARTED franchise, packed with all the wit, cunning, and over the top moments of the beloved thieves – Nathan Drake and Chloe Frazer.
In an experience delivered by award winning developer Naughty Dog, the UNCHARTEDTM:  Legacy of Thieves Collection includes the two critically-acclaimed, globe-trotting single player adventures from UNCHARTED™ 4: A Thief's End and UNCHARTED™: The Lost Legacy. Each story is filled with laughs, drama, high octane combat, and a sense of wonder – remastered to be even more immersive.
Live the adventure like never before with the features and incredible speed of the PlayStation®5 console. The award-winning fidelity and detail from the developers at Naughty Dog is made even more stunning with improved visuals and framerate. Feel the blockbuster action of the UNCHARTED franchise with the DualSense™ wireless controller's haptic feedback and adaptive triggers.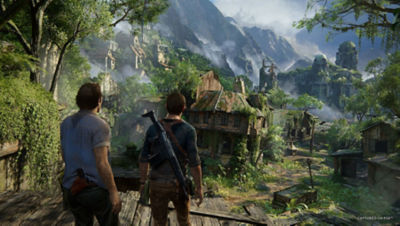 UNCHARTED™ 4: A Thief's End
Winner of over 150 Game of the Year awards.
Several years after his last adventure, retired fortune hunter Nathan Drake, is forced back into the world of thieves. Fate comes calling when Sam, Drake's presumed dead brother, resurfaces seeking his help to save his own life and offering an adventure Drake can't resist. Drake's greatest adventure will test his physical limits, his resolve, and ultimately what he's willing to sacrifice to save the ones he loves.
On the hunt for Captain Henry Avery's long-lost treasure, Sam and Drake set off to find Libertalia, the pirate utopia deep in the forests of Madagascar – leading to a journey around the globe through jungle isles, far-flung cities, and snowcapped peaks on the search for Avery's fortune.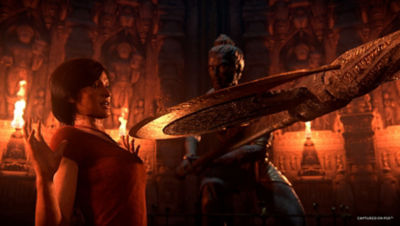 UNCHARTED™: The Lost Legacy
In order to recover an ancient artifact and keep it out of the hands of a ruthless warmonger, Chloe Frazer must enlist the aid of renowned mercenary Nadine Ross and venture to India's Western Ghats to locate the Golden Tusk of Ganesh. In Chloe's greatest journey yet, she must confront her past and decide what she's willing to sacrifice to forge her own legacy.
Pre-Order FAQs: https://direct.playstation.com/en-us/support/pre-orders
WARNING: IF YOU HAVE A HISTORY OF EPILEPSY OR SEIZURES, CONSULT A DOCTOR BEFORE USE. CERTAIN PATTERNS MAY TRIGGER SEIZURES WITH NO PRIOR HISTORY. BEFORE USING AND FOR MORE DETAILS SEE INSTRUCTIONS FOR THE PRODUCT OR CONTACT SIE CONSUMER SERVICES AT 1-800-345-7669.
1 player. 88GB minimum. Vibration function & trigger effect supported.
Online features may be terminated at any time. PS5™ Enhanced features vary from title to title. Software subject to license and limited warranty (us.playstation.com/softwarelicense). Online features require an account and are subject to terms of service and privacy policy (playstation.com/legal). Licensed for play on PS5™ consoles in the United States. Manufactured and printed in the United States. "PlayStation Family Mark", "PlayStation Studios logo", "PlayStation", "PS5" and "PS5 logo" are registered trademarks or trademarks of Sony Interactive Entertainment Inc.
©2021 Sony Interactive Entertainment LLC. Created and developed by Naughty Dog LLC. UNCHARTED is a registered trademark of Sony Interactive Entertainment LLC and related companies in the U.S. and other countries.